It's been a while. I hope everyone is in good health! I've always had intentions of writing a weekly newsletter, but then life happens. I'll try to do better going forward, but I still promise not to send any emails unless I have something interesting to share.
Latest essay
I recently published a new post titled The Economics of Product Development. The ability to make better tradeoffs is probably the most critical skill to hone in life and work. Still, although many people are good at personal tradeoffs, they lack the foundation of making tradeoffs at work. Work becomes more about productivity through busyness rather than deliberate optimization of economics.
Books I'm reading
Invent and Wander: The Collected Writings of Jeff Bezos is a collection of Bezos' writings. The first part of the book includes over 20 years of his annual shareholder letters. These letters are fantastic, as they follow the evolution of Bezos' business philosophy. Although many things change over time, you also noticed a few unwavering constants: His relentless focus on customers, his fear of complacency as a result of success, and his willingness to take big risks, knowing that most of them will not succeed.
I'm also listening to Obama's latest book, A Promised Land. I bought it in every format: ebook, physical, and audio. I'm enjoying the audiobook the most. I was hooked after the first few minutes. Not only is Obama a great storyteller and a great genuine human being, but his narration is also captivating.
I'm continuing my NLP (Natural Language Processing) studies and reading a couple of great books, Speech and Language Processing and Natural Language Processing with Python and Spacy. The first is a textbook covering the foundation of NLP; the latter is more practical and gets you up and running quickly using the Spacy NLP toolkit.
Quote I'm pondering
"Busyness as Proxy of Productivity: In the absence of clear indicators of what it means to be productive and valuable (like units produced at the end of the day in industrial setting), many knowledge workers turn back to an industrial indicator of productivity, doing lots of stuff in a visible manner." - Cal Newport author of Deep Work
What I subscribe to
It's been almost a year since I regularly consumed mainstream media, other than an occasional glance when seeking some temporary distraction from work. Instead, I subscribe to newsletters. Although the media has been going through unbundling for a while, the ability to consume more thoughtful, fewer ads biased news, is more realistic today than ever before. This is partly driven by the availability of platforms that allow independent writers to make a living through subscription fees. Although the technology to do this has existed for two decades, it took time for a market to shift to make this a reality. Enough people had to be fed up with MSM and be willing to switch to the subscription model, while enough journalists needed to take the risk and feel secure in making a living going solo. Read My Resignation From The Intercept by Glenn Greenwald to understand why and how some decide to go solo. I don't agree with Glenn on his politics or most issues, but I respect his independent thinking and willingness to fight for his beliefs. I subscribe and read his newsletter regularly to balance my point of view.
Other newsletters I either subscribe to, or have subscribed to in the past…
Exercise equipment
Winter is upon us, and I'm motivated to continue my exercise routine. I got into cycling this spring and summer and felt like I'm in the best shape I've been for a while. With the days getting shorter and colder, I plan on continuing this routine, but now from home.
To simulate what I love about cycling, I set out to recreate a similar environment in my home gym. Although there is no replacing of a real summer breeze and riding to Lake Saint Clair's view, I was able to simulate at least the feel of a road bike and its competitive traits.
Here is my home setup…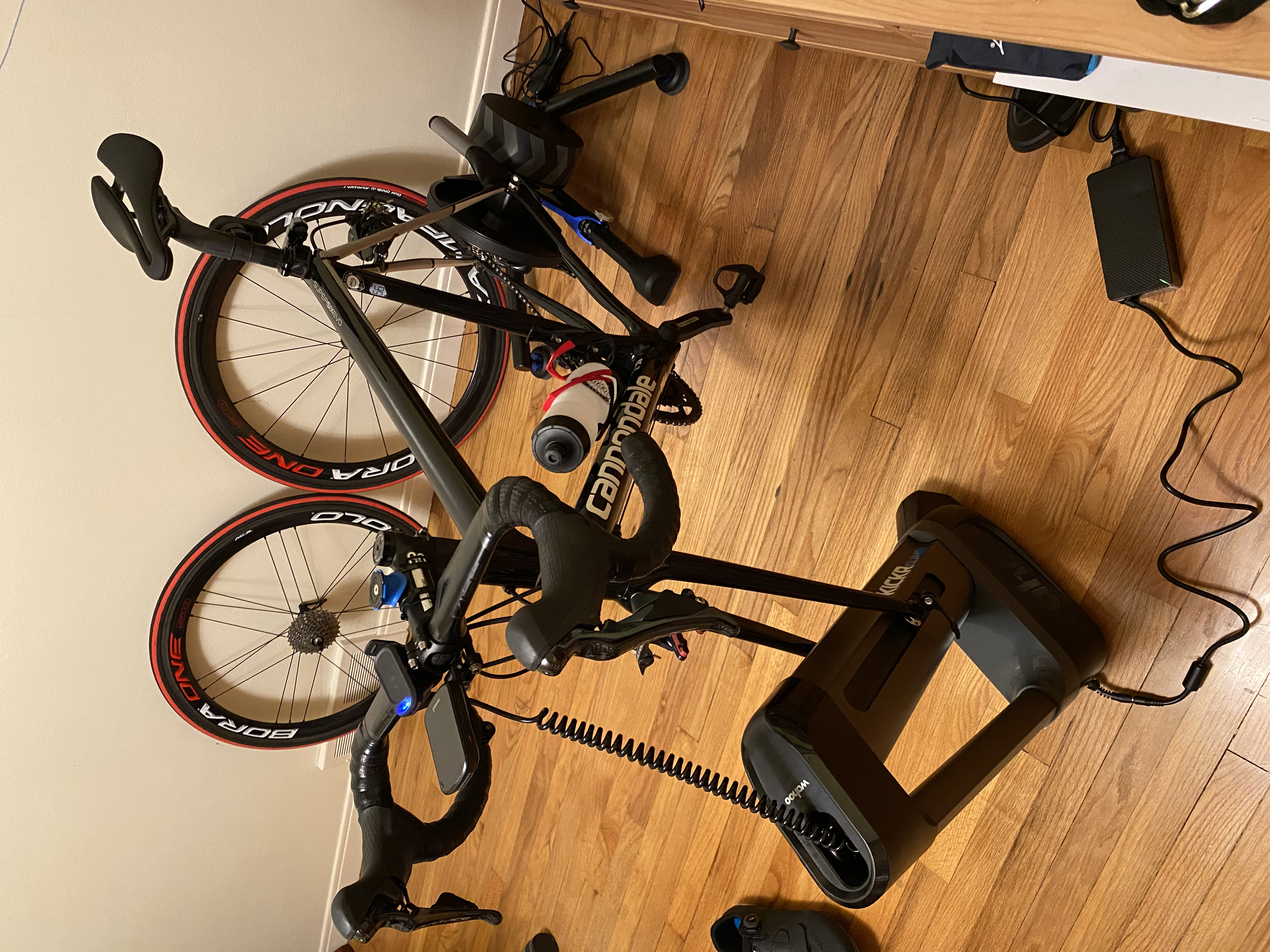 I use a Wahoo Kickr and Kickr Climb. You remove the wheels of your real bike and attach the frame to the Wahoo hardware. Given that my bike was professionally fitted (highly recommended if you're getting into cycling), I get to keep all of these customizations in my stationary setup.
I use Zwift as the training app. Zwift allows you to ride various routes and simulates the terrain by adjusting the bike's resistance and angle. Going up and downhill feels real. You also get to compete by racing people worldwide or by just virtually riding with your friends.